The visual system is a delicate and complicated part of the human anatomy. All parts of the eye and many parts of the body affect your ability to see correctly. In our comprehensive eye exam, the health of your eyes is fully evaluated.
Modern Eye Care caters to the individual needs of each patient with well trained staff members who provide personalized attention. We do much more than just check your vision and provide you with eyeglasses. We provide comprehensive eye care and full treatment and management of eye conditions in order to ensure internal and external eye health and correct vision. We find that our extensive use of technology and highly trained staff allows the doctors at Modern Eye Care to spend more one-on-one time with our patients.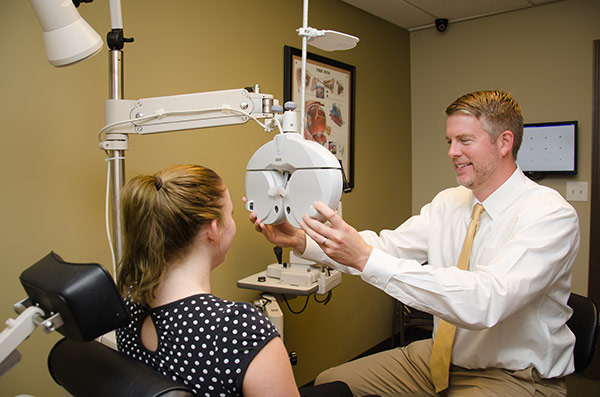 You will find that your eye examination is a pleasant and interesting experience. Based on modern optometric techniques, the examination consists of a series of tests integrated with each other that allow us to observe and measure your eyes with your active participation. Additional tests will be performed to assess the muscular balance of your eyes; how well your eyes work as a team, and how well your eyes focus.
At the conclusion of the exam, we will explain the results of the tests and make recommendations for any needed preventative or remedial vision care. When you visit our office, you will leave knowing you have had a comprehensive vision and eye health examination by experienced and caring professionals.
Vision is a complex process that can be broken down into three major areas:
Visual Acuity is how clear your vision including close-up, distance and peripheral vision.
Visual Efficiency Skills represent the eyes ability to change focus and track objects.
Visual Information Processing is the ability to recognize and discriminate visual stimuli and to interpret them correctly.
Optomap Technology
Our doctors carefully examine the outer structures of the eye as well as the internal structures using state-of-the-art equipment. The Optomap technology provides an accurate digital image of the back of your eye and becomes a permanent digital record that eye doctors can use annually to compare and track small changes. In most cases this eliminates the need for dilation.
Our full range of vision services include examination of children and adults, contact lens fitting of all types, and co-management of laser and cataract surgery.
We Provide Diagnosis and Treatment of:
Glaucoma, Cataracts, Macular Degeneration, Diabetic Eye Disease, Dry Eye, Conjunctivitis (Pink Eye and Infections), Corneal Abrasions, Seasonal Allergic Eye Problems and Eye Injuries, among other eye problems.